2015

KENTUCKY CRAFTED PRESS RELEASE
Local artist Heidi Wineland to exhibit at Kentucky Crafted: The Market 2015
Grayson, Ky. – Heidi Wineland will exhibit for the first time at Kentucky Crafted: The Market, the Kentucky Arts Council's signature arts marketplace for wholesale buyers and the general public March 7-8 at the Lexington Convention Center.  Wineland was invited to participate in The Market as a juried participant of the arts council's Kentucky Crafted Program. "For more than 30 years, artists in the Kentucky Crafted Program have represented the best of the Commonwealth's art and craft production on local, state, national and international stages," said Lori Meadows, executive director of the arts council. "Kentucky Crafted artists contribute mightily to the Commonwealth's global association with artistic excellence and quality craftsmanship."
Heidi Wineland has been teaching art for 28 years and selling her folk art under her KittyAllen brand for 15 years.  Her many products including beaded jewelry, folk dolls and rag baskets can be found in galleries in Kentucky, Ohio and West Virginia, but it is her unique "Knitagain" monsters made from recycled sweaters that won her entry into the exclusive registry of Kentucky Crafted artists in the 2014 selection process. Wineland will be presenting at The Market for the first time this March.
Heidi Wineland is one of more than 200 producers of the state's finest art, craft, literature and artisanal food products who will participate in The Market, now in its 33rd year.
Kentucky Crafted: The Market offers buyers from galleries, shops and online retail venues across the nation the opportunity to select products from this elite group of exhibitors. The Market is open exclusively to the trade on March 6.  On March 7-8, the marketplace opens to the public. In addition to shopping for fine art and craft, visitors can enjoy musical performances, sample regional food products, participate in hands-on activities, and explore Kentucky arts and culture through special exhibits.
"This is a terrific opportunity not only to sell my artwork to a wider audience, but also to raise my profile as a folk art instructor in the local area." says Mrs. Wineland.   "I taught a regular schedule of public programs at libraries, art centers and craft stores when I lived in Northern Kentucky, but I have not found the same opportunities since I moved to eastern Kentucky four years ago.  More than producing work for retail sale, I really love teaching people, especially girls and women, how to create artwork themselves.  Traditional handicrafts have always been a means of self-expression and a way to earn extra income for women in Appalachia.  With the nationwide rise in the DIY culture and web-based cottage industry, now is a terrific time for women to learn profitable creative skills.  Hopefully my participation in the Kentucky Crafted program and the annual statewide market will help me to promote that message"
One-day tickets are $10. Two-day tickets are $15. Children 15 and younger are admitted free of charge.
For more information about Heidi Wineland or Kitty Allen Knitagains, call 606-316-5270 or email heidiwineland@gmail.com.
For more information about Kentucky Crafted: The Market, visit http://artscouncil.ky.gov/KentuckyArt/2015Market.htm.
The Kentucky Arts Council, the state arts agency, fosters environments for Kentuckians to value, participate in and benefit from the arts. Kentucky Arts Council funding is provided by the Kentucky General Assembly and the National Endowment for the Arts.
2010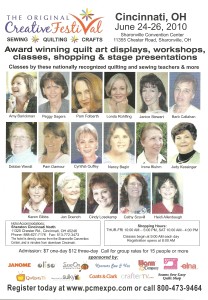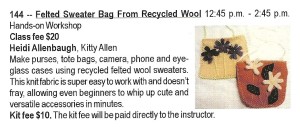 Rock on for Seniors charity auction 2010

  This event was a lot of fun.  The painted chair is my official entry for the auction.  They also asked for this child-size sweater chair as a raffle prize.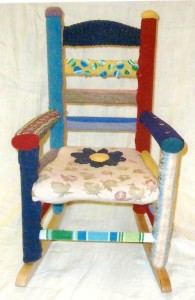 Oscar glamour comes to the Covedale Library
Photo by Julie Hotchkiss
The Academy Awards come once a year, along with buzz about the dresses (and the stars who wear them) on the red carpet. This year, you can catch some of the buzz at a unique display of Barbie-type dolls dressed in some of the gowns of past years. Heidi Allenbaugh's Oscar-dressed doll collection will be on display at the Covedale Branch Library, 4980 Glenway Avenue in West Price Hill, during March. She's displayed her doppelganger dolls at several libraries in years past, and they are always a big hit.
Heidi started dressing dolls in Oscar dresses about ten years ago, as an outgrowth of her passion for the Academy Awards—she's seen every film every nominated for an Oscar since 1927. She didn't start showing them in public until 2002; they've also appeared in magazines and on television. Heidi has about 130 Oscar dolls, and she hopes to someday publish a book.
It's definitely a labor of love—and a time-consuming one. Of course she will be watching the Academy Awards show tonight, taking notes on the most likely dresses to recreate. In the weeks after the Oscars presentation, about a dozen magazines publish photo spreads of the red carpet gowns, and Heidi buys two of each one and clips the photos. Then she files the pictures, in alphabetical order by actress. After ten years, she has five binders of research photos.
"The trick is to collect pictures of a dress from every possible angle," she says. "I have to be able to see front and back and the bottom. I have guessed at what the back or bottom looks like, and then later found a photo that shows I did it wrong. And I have to hunt, hunt, hunt online for detailed photos of lesser stars."
When she began, she used her own fabric scraps, but now she spends time looking for just the right fabric, which she buys in quarter-yard pieces. She's always on the lookout for small baubles, trim, and embellishments. Although print fabrics are usually the most difficult for her to replicate, one particular fabric has remained illusive. "I have been looking for the perfect blue-grey chiffon for Kate Hudson circa 'Almost Famous' for a decade," she says.
It takes between two and ten hours to make a dress, and the clothes don't come off the doll they are made for—Heidi sews, glues, and paints directly on the doll. Fitted dresses are easier than loose, flowing ones; jewelry is easy, but pleats are impossible, she says. Every year sees a few new dresses and dolls added to her collection. This year the new additions include Jennifer Lopez in Marchesa, complete with rhinestone drapery, Nicole Kidman in Balenciaga, Jessica Biel in Oscar de la Renta, and Jennifer Hudson in Oscar de la Renta with a silver jacket that "looks like a space suit."
Heidi makes her living making, selling, and teaching crafts, but her Academy Awards dolls are not for sale—and she doesn't make doll clothes for sale, either. She has also never dressed a male doll. "Nobody cares what the men wear. Really."
The slide show gives you an idea of the breadth of glamorous gowns Heidi creates for the dolls, but you really have to see the detail in person to appreciate just how remarkable her hobby really is. There are about 40 dolls on display at the Covedale Library through March, so stop by to see them soon, and tell them you read about them here. As Heidi says, "The gals always appreciate a little publicity."

2009
KittyAllen Rag Baskets were featured in
Country Living Magazine
 

2008

A Cincinnati Public Library Program around 2008
2004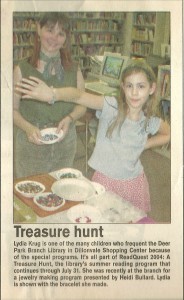 A Cincinnati Public Library Program sometime around 2004