KittyAllen is the brand name for the handmade products made and sold by artist Heidi Wineland.  KittyAllen's vibe is small, fun and happy with an emphasis on color, texture and creating a sense of comfort.  The rough-edged aesthetic of the rag baskets, Knitagains and folk dolls are meant to suggest hands-on usefulness.  KittyAllen jewelry is made to be unusual and affordable so that the wearer will have the only one like it, and can have lots of it!                                                          SHOP HERE
Knitagains:
Knitagains are plush dolls, animals and monsters made from recycled knit sweaters and t-shirts. Once they were knitwear.  Now they are "knit again"; hand-cut, assembled, embroidered, and stuffed with poly fiberfill. Most are weighted with pebbles or polybeads to give them a satisfying heft. Knitagains are Heidi's most popular product. They come in a variety of sizes with larger pieces having a greater complexity and more detailed embellishment.   Characters include monsters, devils, rabbits, cats, fish, squid, birds and bugs.  KittyAllen Knitagains have been recognized by the Kentucky Arts Council as an official Kentucky Crafted product.
They come in 4 basic models:
 Jumbo
10″ – 12″ Body.  Double fabric ears and limbs. Pillow-like.  No weighting.
 Deluxe
7″ – 10″ Body. Double fabric ears. Rolled limbs. Flat bottom. Weighted.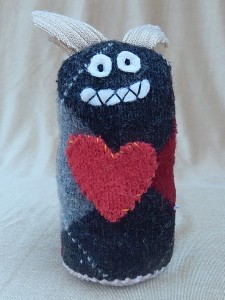 Regular
5″-7″ body. Single fabric ears or horns. No, or small limbs. Flat bottom.  Weighted.
 Mini
4″ body. Single fabric ears and limbs. No weight. Loop for hanging. Some have belly embellishment.
Plus a variety of special editions
Starfish
9″ body. Face on belly. Embellishment on back. No weight.
 
Beetle 
5″-6″ soft body, no weight.  Eyes, wire antenna, embellished wings


Other KittyAllen products include:
Rag Baskets
Rag Baskets are hand-wrapped cotton bowls made out of strips of  ripped quilting cotton wrapped around cotton rope.  No sewing or glue is used – just fabric, rope, two hands and a stick.  The result is a rustic, sturdy but flexible multi-purpose bowl.  They come in many colors, shapes and sizes.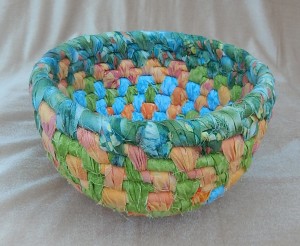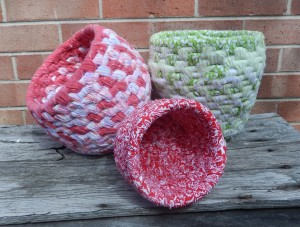 Peg Dolls
Like Kitty Allen on Facebook