Academy Award Action Figures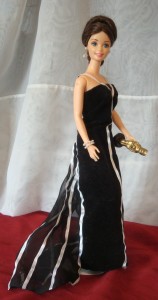 The Academy Award Action Figures (AKA Oscar Dolls) are handmade replicas of fashion worn at the Academy Awards and at A-list Oscar night parties.  Heidi makes each dress by hand based on her extensive collection of magazine clippings.  The advent of the internet has made researching the dresses much easier than it was in 1997 when she had to rely solely on "People magazine."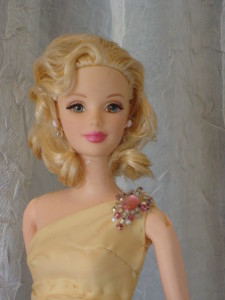 Heidi uses fashion dolls, primarily Barbies, to construct the Action Figures, but her focus has always been on the clothing, not the doll.  Although she makes some effort to select a good likeness of the celebrity subject and to style the hair and makeup, she makes no claim to be a repaint artist, or even a OOAK doll artist, nor does she aspire to be one.
For Heidi the interest lies in the cult of celebrity and the deification of those select few who transcend mere Hollywood stardom to rise to the level of Oscar elect.  Even to be nominated is an honor, as once a person as been chosen, she will forever be identified as "Oscar nominee Sue Smith".  So great is the power of the throne that even being among the ladies of the court as presenters, performers or dates accords press coverage out of proportion to film premieres, other awards shows and even weddings.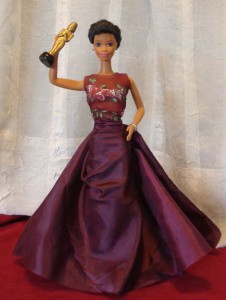 Although Elizabeth Taylor married multiple times it is difficult to call to mind any of her well-publicized wedding dresses.  Julia Roberts has walked a thousand press gauntlets wearing all manner of designer fashions.  Bjork has a career full of mind bending haute couture moments. Yet, which dress sticks in your mind?  The Oscar dress.
It is the intangible magic of that fleeting moment when fame, fashion, the media machine and the public appetite for golden idols come together that Heidi is celebrating with the Academy Award Action Figures.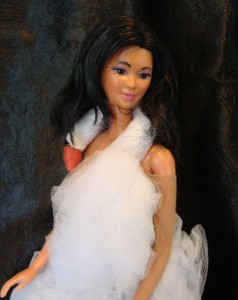 There are currently about 150 dolls in the collection which is always growing.  They are not and have never been for sale, however they do occasionally go out on exhibit.
Like them on Facebook
Follow them on Twitter
Follow them on Pinterest